06 Nov

The Birth of Mona
Our first blog post!
Crazy, I can't believe we have already come through so much of 2013. This year has been incredible, we have gotten to know a lot of wonderful new friends and reconnected with some people that we have known and loved for a long time. The press has been so generous I don't know where to start, and so many people have allowed us to stock the store with some of the most amazing product possible. Thank you
I should tell you how the store came to be.
I worked at Nordstrom for 10 years and realized that I needed something different than what Nordstrom had to offer. I left there in July of 2012 not really sure what the next phase was going to be, but ready for the phase anyway.
Immediately after I left I thought of the fashion designer Elsa Schiaparelli. Not because she had any profound quotes on jobs, but because there was an exhibit at the Metropolitan Museum of Art celebrating her and Miuccia Prada. Elsa has long been my favorite, not only because her clothes were amazing, but because she was witty and very daring for her time. I realized that I now had time during the summer to see this incredible exhibit, and no job to speak of, well, I booked a flight for the next week.
On the flight, I read the New York Times and there was an article on designer consignment shops opening in Manhattan, and at that moment I knew that one would be opening in Minneapolis. The idea was perfect! I knew lots of people that had beautiful clothes to consign, and I could select pieces not just from one season, but from a designers body of work. I loved the idea, because I could present the very best of the brand, not just the best of the current season. Amazing….the idea I could surround people with the very best of fashion and allow them to choose a wardrobe that was truly one of a kind. The fashion fates had spoken, it was my job to answer, not question, so I started preparing to open a store.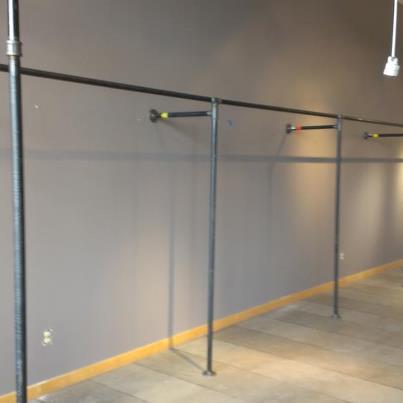 Have you ever just decided to jump and figure out landing later? I found a space in November, signed the lease in December, took the keys in January and told everyone I was opening in February. I talked constantly about the plans, and even though most people thought I was crazy, everyone was super supportive. We painted the store one night, got the fixtures the next week, called clients about consigning, and then started pricing and ticketing and basically created a retail whirlwind. I have to say, five weeks never went by so fast.

We opened to very generous press on a cold Thursday in February, and..since then, well, the pace hasn't really slowed, but bringing fashion to a new audience is so much fun…totally worth it!